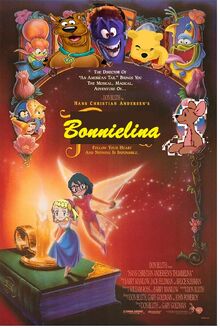 400Movies' movie spoof of Don Bluth Thumbelina (1994). It will appear on YouTube in the near future.
Cast:
Thumbelina - Bonnie (Pokemon)
Prince Cornelius - Max (Pokemon)
Jacquimo - Scooby Doo
Mother - Ann Possible (Kim Possible)
Hero - Himself
Baby Bug - Himself
Gnatty - Herself
L'il Bee - Himself
Mrs. Toad - Herself
Mozo - Himself
Gringo - Himself
Grundel - Himself
Berkeley Beetle - Dave (Penguins of Madagascar)
Ms. Fieldmouse - Kanga (Winnie the Pooh)
Mr. Mole - Winnie the Pooh
Bumblebee - Charizard (Pokemon)
Queen Tabitha - Caroline (Pokemon)
King Colbert - Norman (Pokemon)
Mrs. Rabbit - Marina (Pokemon Chronicles)
Mr. Fox - Jimmy (Pokemon Chronicles)
Mr. Bear - Baloo (The Junge Book)
Reverend Rat - Major Glory (Dexter's Laboratory)
Scenes:
Trivia:
This is an NTSC spoof with the original version, not the Blu-Ray version.
Gallery: