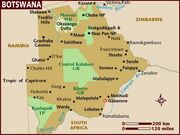 Botswana, officially the Republic of Botswana (Setswana: Lefatshe la Botswana), is a landlocked country in Southern Africa. Formerly the British protectorate of Bechuanaland, Botswana adopted its new name after becoming independent within the Commonwealth on 30 September 1966. Since then, it has been a representative republic, with a consistent record of uninterrupted democratic elections and the best perceived corruption ranking in Africa since at least 1998. It is currently Africa's oldest continuous democracy. Botswana is topographically flat, with up to 70 percent of its territory being the Kalahari Desert. It is bordered by South Africa to the south and southeast, Namibia to the west and north, and Zimbabwe to the northeast. Its border with Zambia to the north near Kazungula is poorly defined but is, at most, a few hundred metres long. A mid-sized country of just over 2 million people, Botswana is one of the most sparsely populated countries in the world. Around 10 percent of the population lives in the capital and largest city, Gaborone.
Symbols
National/Official Symbols
Maps
Flag Maps
Gallery
Community content is available under
CC-BY-SA
unless otherwise noted.