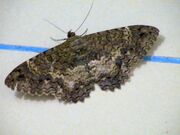 The Brazilian moth (Ascalapha odorata) is considered a harbinger of death in Mexican and Caribbean folklore. In many cultures, one of these moths flying into the house is considered bad luck: e.g., in Mexico, when there is sickness in a house and this moth enters, it is believed the sick person will die, though a variation on this theme (in the lower Rio Grande Valley, Texas) is that death only occurs if the moth flies in and visits all four corners of one's house (in Mesoamerica, from the pre-Hispanic era until the present time, moths have been associated with death and the number four). In some parts of Mexico, people joke that if one flies over someone's head, the person will lose his hair.
Community content is available under
CC-BY-SA
unless otherwise noted.