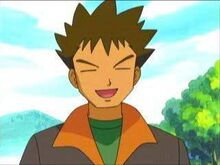 Brock is a character and one of Ash Ketchum's friends in "Pokémon".
He is a mouse.
His role was Jacob (Jakob) Scribble; He is also the Raven.
He is a hippie.
He is a former legendary Jedi master.
He is a starfish.
He is a rescue ranger.
He is Max's friend.
He is a penguin.
He is a grouchy farmer.
He is a mouse.
He is an English man.
He is the master.
He is a hunk.
He is a rescue ranger.
He is a cat.
He is a Mouse
Brock played Woody in Toy story for 397Movies
He is a Sheriff
He is a Soul Fighter
Brock Played Motoki Andro In Sailor Mars (158Movies Style)
He is a boy who works in Game Center Crown
He is Serena's Love Interest and a Boyfriend
Brock Played Sim the Lion In The Lion King Spoof Oogleyey
He is Mufasa's Son
He is Troy's Best Friend
He is a man in back.
he is super hero
he is a Young Viking
Brock Played Dimitri In Litastasia
Voice Actors:
Eric Stuart (Seasons 1-8) - English
Bill Rogers (Seasons 9-present) - English
Johnny Yong Bosch (Pokemon Origins) - English
Yuji Ueda - Japanese
Tomokazu Sugita - Japanese
Gabriel Gama - Spanish
Javier Balas - Spanish
Alan Prieto - Spanish
Nicola Bartolini Carrassi - Italian
Luca Bottale - Italian
Mattias Knave - Swedish
Waldemar Barwinski - Polish
Fred Meijer - Dutch
Guy Rushiniak - Hebrew
Portrayals:
Gallery:
Community content is available under
CC-BY-SA
unless otherwise noted.