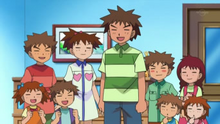 Brock's siblings, known in fanon as the Brocklings, are the nine younger brothers and sisters of Brock. They are the children of Flint and Lola, and appear to all be relatively close in age. They all first appeared in Brock's care in Showdown in Pewter City. The most notable among them is the oldest son after Brock, Forrest (Japanese: ジロウ Jirō), who was first referred to by name and became more defined than the rest of the children in A Family That Battles Together Stays Together!. The remaining childrens' names were listed in Grating Spaces: Salvadore (Japanese: サブロウ Saburō), Yolanda (ヨモコ Yomoko), Tommy (ゴロウ Gorō), Cindy (ムツコ Mutsuko), Suzie (ナナコ Nanako), Timmy (ヤオキ Yaoki), and the twins Billy (クロウ Kurō) and Tilly (トオコ Tōko).
Voice Actors for Salvadore:
Portrayals for Salvadore:
Portrayals for Yolanda:
Portrayals for Tommy:
Portrayals for Cindy:
Portrayals for Suzie:
Portrayals for Timmy:
Portrayals for Billy and Tilly:
Gallery:
Community content is available under
CC-BY-SA
unless otherwise noted.