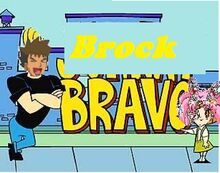 Chris1701's TV-spoof of Johnny Bravo (1997). It will appear on YouTube in the near future.
Cast:
Johnny Bravo - Brock (Pokemon)
Little Suzy - Rini/Sailor Mini Moon (Sailor Moon)
Bunny Bravo - Lola (Pokemon)
Carl - Harley (Pokemon)
Pops - Professor Oak (Pokemon)
Scooby Doo - Tom Sawyer (Tom Sawyer)
Shaggy Rogers - Ron Stoppable (Kim Possible)
Fred Jones - Ash Ketchum (Pokemon)
Daphne Blake - Serena (Pokemon)
Velma Dinkley - Herself
Mayor - King Triton (The Little Mermaid)
Master Hama - ???
Seasons:
Intro:
Pilot:
See Also:
Trivia:
Brock falls on girls just like johnny bravo
Gallery:
Community content is available under
CC-BY-SA
unless otherwise noted.