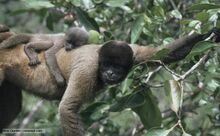 The soft, short, thick, woolly hair of this primate, after which it is named, makes it a particularly attractive New World monkey. The downy fur of the
brown woolly monkey
(
Lagothrix lagotricha
) may vary between shades of dark grey, brown or black, and is often darker on the head and slightly lighter on the underparts. The face, naked of any fur, is typically black. For a tree-dwelling monkey, this species is rather large, but it moves easily through the forest using its long limbs and prehensile tail, which has a bare patch near the tip to provide extra grip. Male woolly monkeys are larger than females and also have larger canines.
Gallery
Gallery
Community content is available under
CC-BY-SA
unless otherwise noted.