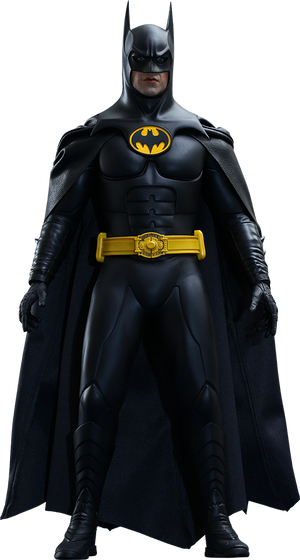 Batman is a fictional superhero appearing in American comic books published by DC Comics. The character was created by artist Bob Kaneand writer Bill Finger, and first appeared in Detective Comics #27, in 1939. Originally named the "Bat-Man", the character is also referred to by such epithets as the Caped Crusader, the Dark Knight, and the World's Greatest Detective.
He Played The Patrol Man in Humphrey & Squeaky: The Movie
He is a patrol man
He is a man from the Southern Water Tribe
He played Shrek in BatShrek
An Ogre who lived alone in a swamp, whom's life changed forever
He Played Melvin In The Big Hit (The Batman Style)
He Is A Brother Caper
He Played Vegeta In

Dragon Ball Z (Chris1701 Style)
he is a Saiyan Prince
He Played Manny In Hero Age TheTureDisneyKing
He Is A Mammoth
He is a Crab
He Played Harry Osborn In

Spider Man (165Movies Style) (2002))
He is seen in the beginning of the film in a room on one of the Lemons' oil rigs, sending Megamind a video message that he has uncovered crucial information about their destructive camera device. Batman stops recording his video when he sees the shadows of Syndrome and Chef Skinner about to enter the room. Later, Syndrome shows Drago Bludvist a compacted red metal cube, revealing (as Megamind watches) that they have crushed the spy after discovering him.
Portrayals
Adult
Bathound: The Animated Series & Bathound & Fox- Batman played by Ace the bathound
The New Bathound Advetures-Batman Played By Ace The Bathound
Batman: The Animated Series (PrinceBalto Human Style)- Batman played by Cassim
The New Batman Advetures (PrinceBalto Human Style)- Batman played by Cassim
Bathound: The Dark Knight played by Ace the Bathound
Bathound: Mystery Of The: BatWoman Played By  Ace The Bathound
Batman: Mystery Of The: Batwoman (PrinceBalto Human Style) Played By Cassim
The Dark Knight (PrinceBalto Human Style) Played By John Smith
Bathound Returns Played By Ace the Bathound
Batman Returns (PrinceBalto Human Style) Played By John Smith
Batman Forever (PrinceBalto Human Style)-Played By John Smith
Batman: (1989) (PrinceBalto Human Style) Played By John Smith
Bathound: (1989) Played By Ace The Bathound
Batman:Beyond (PrinceBalto Human Style)-Played By Master Pakku
Bathound: (1966) Played  Ace The Bathound
Batman: (1966) (PrinceBalto Human Style) Played By John Smith
Bathound & Mr Freeze: Sub-Zero Played By Ace The Bathound
Batman & Mr Freeze: Subizero(PrinceBalto Human Style) Played By Cassim
The Cartoon Movie (Classic Version) Played By Pluck Duck
Batduck: The Dark Knight Played by Batduck
Batman Mask Of The Phantasm (PrinceBalto Human Style) Played By Cassim
Justice League (PrinceBalto Human Style) Played By Cassim
Hot Stuff (Batman 1989) Played By Hot Stuff the Little Devil
Elder
In Batman: Beyond (PrinceBalto Human Style) Played By Master Pakku
In Bathound: Beyond Played By Nava
Actors
Lewis Wilson

- Batman (1943)

Robert Lowery

- Batman and Robin (1949)
Adam West - Batman (1966-1968)
Michael Keaton - Batman (1989-1992)
Val Kilmer - Batman Forever (1995)
George Clooney - Batman and Robin (1997)
Christian Bale - The Dark Knight Trilogy (2005-2012)
David Mazouz - Gotham (2014-2019)
Ben Affleck - DC Extended Universe (2016-Present)
Kevin Conroy - Crisis on Infinite Earths (2019)

Iain Glen

- DC Titans Universe (2019-Present)

Alain Moussi

- DC Titans Universe (2018)

Maxim Savarias

- DC Titans Universe (2018)

Dante Pereira-Olson

- Joker (2019)
Robert Pattinson - DC Extended Universe (2021-Present; The Batman solo films)
Voice Actors
Olan Soule

(1968-1980)
Adam West (1977-2017)
Kevin Conroy (1992-Present)
Michael Bell - The Plucky Duck Show (1992)

Julian Fletcher

- Batman: Dark Tomorrow (2003)
Rino Romano - The Batman (2004-2008)
Christian Bale - Batman Begins: The Game (2005)

Ron Perlman

- Justice League Heroes (2006)

Jeremy Sisto

- Justice League: The New Frontier (2008)
Steve Blum - LEGO Batman: The Videogame (2008)

Diedrich Bader

(2008-Present)

Dave Gazzana

- Mortal Kombat vs DC Universe (2008)

Michael Dobson

- Batman: Black and White (2008)

Jim Meskimen

- Superman: Red Son (2009)

Daran Norris

- DC Super Friends

William Baldwin

- Justice League: Crisis on Two Earths (2010)

Bruce Greenwood

(2010-Present)

Ben McKenzie

(2011)
Kevin Michael Richardson - (2012-2013)
Troy Baker (2012-Present)

Peter Weller

- Batman: The Dark Knight Returns (2012-2013)

Anthony Ruivivar

- Beware the Batman (2013-2014)
Roger Craig Smith (2013-Present)

Jason O'Mara

- DC Animated Movie (2014-Present)

Will Arnett

- The LEGO Movie (2014-Present)

Jimmy Kimmel

- Teen Titans Go! To the Movies (2018)
LEGO Minifigures
LEGO Batman (2006-2008)
LEGO DC Comics Super Heroes
LEGO DC Extended Universe
The LEGO Movie
Gallery