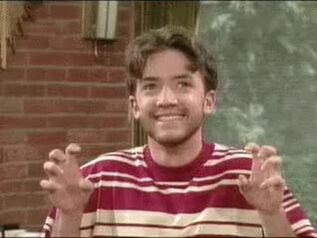 Bud Bundy is the son of Al and Peggy Bundy, and the brother of Kelly Bundy, and is considered to be one of the smartest Bundys, as he not only graduated from high school, but also went to and graduated from college.
Details about Bud
He was born on January 22, 1972 or 1974 to Al and Peggy Bundy, making him about way and three years younger than Kelly.
In the season seven episode, Christmas Bud's first words as a baby were "Playboys! Hooters!". After Kelly makes fun of him, Peg reminds her that he only knows those words, but he quickly mutters "Like hell". He was also able to say "The dog's been eating your slippers" as Al tempts them with giving only one of them a nice gift for Christmas. Though, in "Grime and Punishment", his first words were "Bud need food. Bud want food. Ouch!" according to his baby book. It was also revealed by Al in the same episode that they didn't put any pictues of Bud in the baby book because he was an ugly baby.
Growing up, he has been a straight A student and showed that he has more intelligence than the rest of the Bundys. He ended up attending James K. Polk High the same high school as his parents and sister. During season 3 and 4, he is shown talking with Kelly in the hallway when they were attending at the same time. He continued to earn good grades, even being among a select few to have a chance to meet U.S. President George H.W. Bush, but lost out when Al gave the money he needed for the trip to Kelly, so she could buy a new dress in Weenie Tot Lovers and Other Strangers.
It appeared that he was bullied by some of the students, such as Heather McCoy, who tricked him into going skinny dipping before stealing his clothes and hanging his underwear on a flag pole in 6th grade and then did something similar to him again at the dance in season 4's What Goes Around Came Around. In season 10's Blonde and Blonder, he was suppose to attend prom with Kelly's friend, Ashley, but she stood him up and left him a note that said "Bite Me, Nerd Boy!" when arrived at her house. He also mentions getting dunked face first into the toilets at school by other students.
Personality
Bud was your typical but averge girl crazy teenage boy. Desperate for any female contact by phone.
Bud is, however, very intelligent, and was the only one in the family to go to college. He worked hard on his grades, and Peggy once said he got straight A's. So it is possible that Bud would be able to make something of his life. At the same time however he still manages to be just as morally depraved as the rest of his family.
Gallery