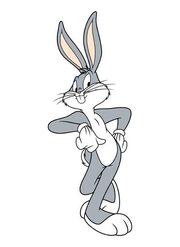 He is a prince
Bugs Bunny played Chanticleer in Rabbit-a-Doodle
He is a rooster
Bugs Bunny played Llama Kuzco in Tod's New Groove
He is a Llama
He is a dwarf
He is a Toy animatronic
He is a purple emotion
Bugs Bunny played Ash Ketchum in Pokemon spoof for ???
He is a Pokemon trainer
He is a dwarf
Bugs Bunny played Lumiere in Beauty and the Dragon (J.B. Eagle style)
He is a candle
He is a donkey
Bugs Bunny played Po The Panda in Kung Fu Rabbit (Dragon Rockz Style)
He is a panda
Bugs Bunny played Marty The Zebra in Madagascar (Disney and Sega Animal Style)
He is a zebra
Portrayals:
Relatives:
Very Best Friend - Mickey Mouse, Mario, and Hal 
Best Friends - Daffy Duck and Tom Cat and Jerry Mouse and Sylvester the Cat and Tweety Bird and Lola Bunny 
Wife - Lola Bunny
Son - Yang
Son in Law - E.B.
Daughter - Yin
Grandson - Warren
Granddaughters - Warren's 25 rabbit sisters
Gallery:
Community content is available under
CC-BY-SA
unless otherwise noted.