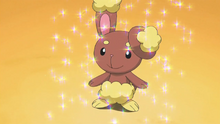 Buneary (Japanese: ミミロル Mimirol) is a Normal-type Pokémon introduced in Generation IV. It evolves into Lopunny when leveled up with high friendship.
Voice Actors:
Portrayed
She played Skeeter in Friendship Babies
She played Dora in Buneary the Explorer
She played Jane Foster inPikachu: The Dark World
User Dawn:
Relatives:
Gallery:
Appearance
Buneary is a small, bipedal, rabbit-like Pokémon with brown ears that can curl up. She has two types of fur covering her body: a light tan fleece that covers much of her lower body, feet, and the tips of her ears, and a smooth chocolate colored pelt on the upper half of her body. She has a small, triangular pink nose, pink paw pads on the undersides of her feet, and small tan spots above her eyes. She has a small brown puff of a tail.
Biology
Physiology
Buneary appears to be a brown bunny with yellow-cream fluffs on its ears. It also has pink undersides on its ears. Buneary also possesses a pink, triangular-shaped nose and small, black eyes with cream-colored eyebrows. It has yellow-cream fluff around most of its midsection and feet, with a small, round tail. Buneary's body is small and thin, with short arms that end in three-fingered paws. Its yellow-cream colored feet have three toes, and large pink paw pads on the undersides. 
Behavior
Buneary is extremely wary of its surroundings. When feeling threatened, it will perk up its ears or even uncoiling them to deliver a powerful hit that can reduce boulders into dusts and remnants. Having both of its ears rolled up is a sign of it feeling unwell in terms of its mind or body.
When feeling cold, it tucks itself with its fur to keep itself warm and cozy.
Natural Abilities
Buneary can run away very swiftly in a nick of time when facing dangers. It can also use its ears to hit opponents that will make them shriek in agony.
Evolution
Buneary evolves into Lopunny when leveled up with high friendship.
Game info
Locations
Template:Game Locations
Side game locations
Template:Side Game Locations
Pokédex entries
Template:PokédexEntry
Side Game Data
Template:PRSOAdata
Stats
Template:PokéStats
Learnset
Leveling
TM/HM
Breeding
Tutoring
Sprites
Template:SpriteGallery
Appearances
Anime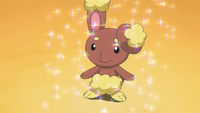 Main article:

Dawn's Buneary
In the anime, Dawn owns a female Buneary capable of using Ice Beam and Bounce. Dawn used Buneary in many of her contests through Sinnoh and even made an outfit for Buneary, further highlighting its cute appearance. Buneary also appears to have a crush on Ash's Pikachu, often embarrassing him.
Lilia's Buneary

Buneary (PK028)

Team Rocket's Buneary
Manga
Trivia
Buneary is the only Pokémon to learn

Frustration

via level up, even though ironically it evolves by happiness.
Buneary and

Kricketot

are the only two

Sinnoh

Pokémon in swarms in Pokémon HeartGold and SoulSilver.
Buneary is one of the 16 Pokémon to be made into a puppet in Japan.
She appears as Rubella Frenchnut's only Pokemon, only to join Stephen, just when she and the others have defeated Rubella.
Origin
Buneary appears to be based off a small brown Template:WP.
Etymology
Buneary comes from bunny and ear.
Its Japanese name, Mimirol, comes from mimi (ear) and roll.