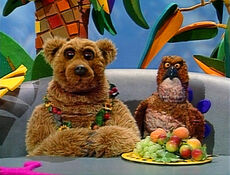 Bunnie Bear was a co-host and Jake's cousin on The Animal Show.
Bunnie Bear replaced Ollie the Tapir after the first season.This lovable but clumsy bear teamed up with grumpy Armstrong the Chicken Hawk for segments like "That's Amazing!", "Animal Awards" and "Habitat Time".
Bio Edit
Hometown: North America, Asia, and Europe
Age: 9 years old (brown bear age)
Personality: Excitable, enthusiastic, loud, and very clumsy
Appearance: Brown bear who wears a flower lei
Occupation: Host of "That's Amazing", "Animal Awards", and "Habitat Time".
Goal: Hosting her segments with Armstrong
Gender: Female
Alignment: Good
Friends: Stinky the Skunk, Jake the Polar Bear, Armstrong the Chicken Hawk, Yves St. La Roach, Tizzy the Bee, Rhonda Rat, Dullard the Aardvark, Sandy the Giant Otter, Melanie the Mink
Likes: Armstrong, habitats
Dislikes: The accidents she left behind as she says "Whoospkie bearskie"
Powers and Abilities:
Voice Actress
Gallery
Community content is available under
CC-BY-SA
unless otherwise noted.