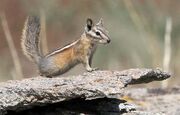 The California chipmunk (Neotamias obscurus) is a species of rodent in the squirrel family Sciuridae. It is found in Baja California, Mexico and in southern California in the United States. It occurs in the San Bernardino, Eagle, San Jacinto, and Santa Rosa Mts. of southern California, and in extreme south-central California near the Mexican border in Imperial and San Diego cos. It is abundant in pinyon-juniper, chamise-redshank and mixed chaparral, and ponderosa pine habitats within its range. Elevational range is from 760-2600 m (2500-8500 ft). The species is uncommon to common in a variety of other habitats, including valley foothill hardwood and Joshua tree.
Gallery
See Also
Community content is available under
CC-BY-SA
unless otherwise noted.