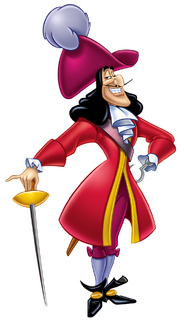 Captain Hook is a villain from Peter Pan.
He is a poacher
He is Lenny's former best friend
He is a Fire Nation Admiral 
He is a rat
He Played Clayton In Gokuzan
He Is A Poachers
He played Jafar in Peterladdin, Dumboladdin and Zigladdin
He is a sorcerer
He is a hunk
He is a thief
He is a vampire
He is the mayor of Sombertown
He is a cat
He is a sorcerer
He is an evil lion
He is a former Fire Nation soldier
He is Tabitha Harperstein's partner and the gang leader
He is a guard leader
He played Prince Achmed in Homerladdin
He is a stupid Prince with the Same voice actor
He is a Pokemon hunter
He is Evil Emperor
He Played In Sailor Roxanne and Sailor (viz)
He is Neflite's Evil Side
He is a Pirate
He is a skinny cowboy
He played Fat In Tom N Jaune Tom Rescue Rangers
He is a Cat
He is a Judge
He is a tiger
He is a sewer rat
He played SkyTrain Mark I #112
He played SkyTrain Mark I #114
He played Captain Zahab in Disney Sentai Gingaman
He is a Pirate Captain of the Space Pirates Barban.
He played Doctor Nefarious Tropy in Stan Bandicoot: N. Sane Trilogy
He is a British Scientist, Who obsessed with Time and Chaos.
He is an evil king
He is a captain and Rayman's nemesis.
He is a short man.
Portrayals:
Voice Actors:
Gallery:
Community content is available under
CC-BY-SA
unless otherwise noted.