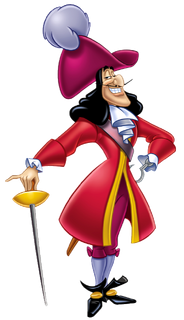 Captain Hook is a villain from Peter Pan.
He is a poacher
He is Lenny's former best friend
He is a Fire Nation Admiral 
He is a rat
He Played Clayton In Gokuzan
He Is A Poachers
He played Jafar in Peterladdin, Dumboladdin and Zigladdin
He is a sorcerer
He is a hunk
He is a thief
He is a vampire
He is the mayor of Sombertown
He is a cat
He is a sorcerer
He is an evil lion
He is a former Fire Nation soldier
He is Tabitha Harperstein's partner and the gang leader
He is a guard leader
He played Prince Achmed in Homerladdin
He is a stupid Prince with the Same voice actor
He is a Pokemon hunter
He is Evil Emperor
He Played In Sailor Roxanne and Sailor (viz)
He is Neflite's Evil Side
He is a Pirate
He played Zak in

Taran and Wart
He is a skinny cowboy
He played Fat In Tom N Jaune Tom Rescue Rangers
He is a Cat
He is a Judge
He is a tiger
He is a sewer rat
He played SkyTrain Mark I #112
He played SkyTrain Mark I #114
He played Captain Zahab in Disney Sentai Gingaman
He is a Pirate Captain of the Space Pirates Barban.
He played Doctor Nefarious Tropy in Stan Bandicoot: N. Sane Trilogy
He is a British Scientist, Who obsessed with Time and Chaos.
He is an evil king
He is a captain and Rayman's nemesis.
He is a short man.
He played Claws Ward in Villains Inc.
He will play Ruggedo the Nome King in

Sylvester and Tweedy: Back to the Four Realms
Portrayals:
Voice Actors:
Gallery:
Trivia
His appearances in the Stephen Squirrelsky and Friends' Movie Spoof Travels are Kermit Returns, where he, Mr. Smee, the pirate crew, Sharky, Bones, and The Drunkers try to catch Stephen and his friends, but can't succeed, then will even appear in more spoof travels.