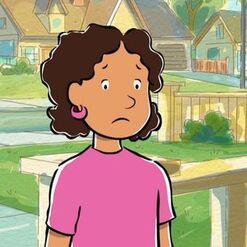 Carolina Rosita Gonzalez is Helen's 14-year-old Spanish cousin in the 6th Grade. Her father is named Jorge, who is the brother of Helen's mother. Carolina is a little self-centered and tries to get everyone to "fit in" through fashion. She is an average singer in reality but thinks she is extremely great. She has a best friend who is also her rival. Carolina first appears in the second episode, "Martha Gives Advice". That is before Carolina knew Martha could talk so she took advice from the show not knowing it was a dog that ran the talk show.
Trivia
Carolina has huge stage fright.
Carolina doesn't have a pet as she considers herself not to be responsible enough for that, but she has Martha and Skits as allies.
She is the only character that speaks Spanish and is bilingual on the show besides Mariella Lorraine, and Martha.
Up until Dog For A Day, she was a bit prejudiced against dogs.
Gallery