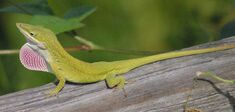 The Carolina anole (Anolis carolinensis) is an arboreal lizard found primarily in the southeastern United States and some Caribbean islands. Other common names include the American green anole, American anole, and red-throated anole. It is also sometimes referred to as the American chameleon due to its ability to change color from several brown hues to bright green and its somewhat similar appearance (though it is not a true chameleon). Color varies from brown to green and can be changed like many other kinds of lizards, but anoles are closely related to iguanas and are not true chameleons. Although A. carolinensis is sometimes called an 'American chameleon', true chameleons do not naturally occur in the Americas, and A. carolinensis is not the only lizard currently in its area of distribution capable of changing colour. In contrast, many species of true chameleons display a greater range of color adaptation, though some can hardly change color at all.
Gallery
Community content is available under
CC-BY-SA
unless otherwise noted.