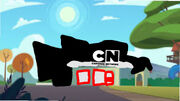 Cartoon Network Studios Daycare (Or Simply Just Cartoon Network Daycare) Is The Main Location Of Total Dramarama Fanon Series
Features
Classroom:
The primary feature of the daycare where the kids study or play. The frog chair, where the kids usually do their confessional, is located in this room. Other major features in this room include a play castle, a set of cubbies, a timeout corner, a long table where the kids eat their lunch and an egg chair where Ami usually spends her time.
Courtney's Office
When She is not supervising the kids, Courtney spends most of his time in his office. Inside the room, there is a safe where the children's confiscated toys are stored, a desk where where he does his work, and a an aquarium with several goldfish.
Lobby
Located at the main entrance, the lobby separates the main classroom and Courtney's office. While a counter is present, nobody is seen sitting there.