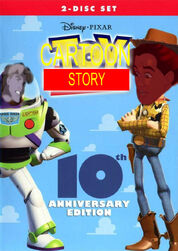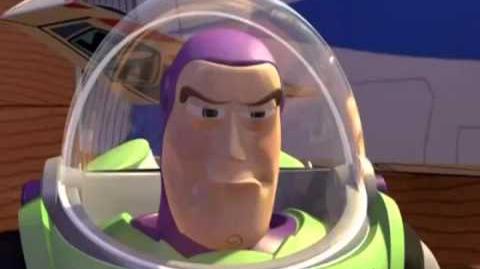 Cast:
Woody - Dimitri (Anastasia)
Buzz Lightyear - Cale (Titan AE)
Mr. Potato Head - SpongeBob SquarePants
Slinky Dog - IM Meen
Rex - Turtle Tuck (The Wonder Pets)
Hamm - The King (Zelda CD-i)
Bo Peep - Anya (Anastasia)
Sarge - Marik Ishtar (Yu-Gi-Oh!)
Sarge's Soldiers - Soldiers (The Plush-Clay Show)
Andy Davis - Johnny Test
Baby Molly - Baby Moses (The Prince of Egypt)
Mrs. Davis - Esmeralda (The Hunchback of Notre Dame)
RC - Lighting McQueen (Cars)
Lenny - Wallace (Wallace and Gromit)
Mr. Shark - Major Nixel (Mixels)
Snake - Fozzie Bear (Muppets)
Robot - Kermit the Frog (Muppets)
Etch - Vincent van Goat (Baby Einstein)
Mr. Spell - Oscar (Shark Tale)
Rocky Gibraltar - Shrek
Troll Dolls - Nemo (Finding Nemo)
Sid - Freddy Krueger (A Nightmare on Elm Street)
Scud - Dragon Maleficent (Sleeping Beauty)
Combat Carl - Spy (Team Fortress 2)
Barrel of Monkeys - Monkeys (The Rugrats Movie)
Various Squeeze Toy Aliens - Various Dogs
Chosen Squeeze Toy Alien - Lucky (101 Dalmatians)
Hannah - Selena Gomez
Sid's Mom - Stacy (Little Black Book)
Baby Face - Skippyjon Jones
Legs - Peppa Pig
Hand in the Box - Gonzo (Muppets)
Roller Bob - Gill (Finding Nemo)
The Frog - Hammy (Over The Hedge)
Jiggle Joe - Z (Antz)
Rockmobile - The Pigeon (Mo Willems Stories)
The Walking Car - Snoopy (Peanuts)
The Duck - Roddy (Flushed Away)
Janie and Pterodactyl - Lisa (The Simpsons) and Rocky (Chicken Run)
Burned Rag Doll - Zoe (Sesame Street)
Huge Red Pickup Truck Toy - Baboom the Bomb (The Plush-Clay Show)
Yellow Soldier Toys- Hellboy and Lord Kelvin (Around the World in 80 Days)
Sally Doll - Dot (PBS Kids)
Community content is available under
CC-BY-SA
unless otherwise noted.