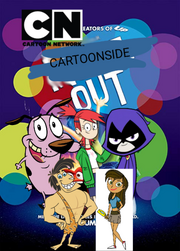 Cartoon Network's movie spoof of Inside Out.
Cast
Joy- Frankie Foster (FHFIF)
Sadness- Ursula Scott (GOTJ)
Disgust- Raven (TTG)
Fear- Courage the Cowardly Dog
Anger- George (GOTJ)
Bing Bong- Bloo (FHFIF)
Riley Anderson- Kerry Anderson (MGPAM)
Riley's Parents- Robin and Starfire (TTG)
Jangles the Clown- ???
Meg- ???
Mr. Anderson's Emotions- ???
Mrs. Anderson's Emotions- ???
Rainbow Unicorn- ???
Goofball Island- Charles Darwin Middle School (MGPAM)
Jordan- Adam Lyon (MGPAM)
Mind Workers- ???
Helicopter Pilot- ???
Gallery