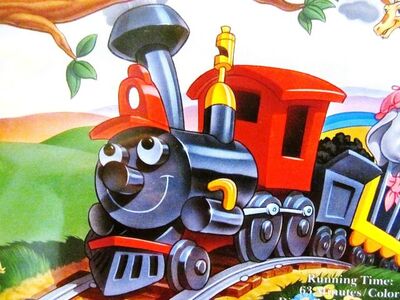 Casey Jr.
Benny the Cab his Pulling The Circus Train
Casey Jr. Circus Locomotive and Tender
Candace Flynn as Casey Junior played in

Candace Jr. Circus Girl
Casey Junior The Circus Engine and Tender
Trivia:
The train Casey Junior pulls in the film, from front to back, is made up of an yellow passenger car (for the clowns and other circus performers), a flatcar with a calliope organ, several flatcars carrying various circus wagons, a red boxcar (carrying the elephants), a dark blue boxcar (carrying animals like monkeys, horses, zebras and camels), several flatcars carrying the tent and its supports, a light blue boxcar (carrying the giraffes (whose heads are clearly sticking out of the roof)), a pink boxcar (carrying predators like hyenas, apes, bears, lions and tigers), a yellow boxcar (carrying animals like ostriches, seals, hippos and kangaroos), a green passenger car carrying (for the circus workmen), Orange Baggage car, Flatbed, Green-Blue Van, Yellow Van, Flatbed, Red-Orange Van, Green Van, Flatbed, Blue Coach, Purple Coach and a red caboose (for the ringmaster). Also, at the end of the film, the caboose is replaced with a silver train car reserved for Dumbo and his mother.
Gallery: