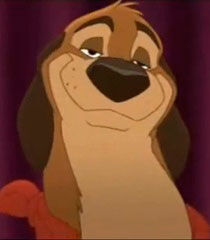 He is a character in The Fox  & The Hound II. He has loved Dixie and likes to lead the band "Singing Strays.
as Fa Zhou In Jenlan
He is Mulan's Father
He is an alien dog
As Dr. Kirk Langstrom in Bathound: The Animated Series
He is a bat scientist
As Foghorn Leghorn in Space Jam (PrinceBalto Style)
He is a chicken
As James in The Princess & The Raccoon
He is a man from Louisiana
As The St. Bernard Angel in All Wolves Go To Heaven 2
He is a St. Bernard
As The Worker Killed By The Velociraptor In Jurassic Park (PrinceBalto Style)
He is killed by a velociraptor
He is an Earthbender
He is an ogre
He is a man
He is a man
AS Captain John Smith In Kiarahontas
He is a captain
He is a Dellben
He is a Lion
Portrayals:
The Wolf-Dog & The Hedgehog II- Played by Po
Likes and dislikes
Likes:
Singing
Country music
Dixie
Leading the band
Being with Dixie
Travelling around the world
Dislikes:
Amos and Chief (they're mean)
When Zelda insults him
His mother's burbs
Eating peanut butter into the jar
Community content is available under
CC-BY-SA
unless otherwise noted.