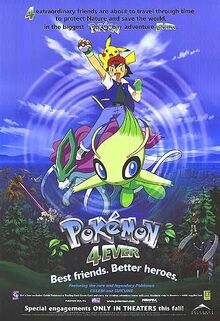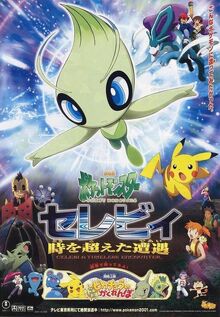 Pokémon 4Ever: Celebi - Voice of the Forest, commonly referred to as Pokémon 4Ever, originally released in Japan as Pocket Monsters the Movie: Celebi A Timeless Encounter (劇場版ポケットモンスター セレビィ 時を越えた遭遇(であい) Gekijōban Poketto Monsutā Serebyi Toki o Koeta Deai, lit. "Celebi: The Meeting that Traversed Time"), is a 2001 Japanese anime film directed by Kunihiko Yuyama and based on the television series Pokémon. It is the fourth official Pokémon film. It was released in Japan on July 7, 2001. The film was directed in Japan by Kunihiko Yuyama, and written by Hideki Sonoda. It stars the regular television cast of Rica Matsumoto, Ikue Ōtani, Mayumi Iizuka, Yūji Ueda, Megumi Hayashibara, and Shin-ichiro Miki. The English adaption of the film, produced by 4Kids Entertainment and distributed by Miramax Films (being the first Pokémon film to be released by Miramax), was released on October 11, 2002 in the United States. It was directed by Jim Malone, and written by Norman J. Grossfeld. The English adaption stars the regular television cast of Veronica Taylor, Eric Stuart, Rachael Lillis, and Maddie Blaustein. For the original Japanese release, the characters had sounded "cartoony", but in the 4Kids English dub release, the characters had a larger than life tone to fit in with the epic nature of this story and the craftsmanship of the animation like Pokémon the Movie: Genesect and the Legend Awakened. Although Cartoon Network aired the film, it aired on Toon Disney on May 21, 2007 (because Miramax, which was owned by Disney at the time, released this animated film), being the third Pokémon film to air on Toon Disney (the first two being the next films Pokémon: Jirachi Wishmaker and Pokémon: Destiny Deoxys). The DVD release includes the short animated cartoon "Pikachu's PikaBoo!" and an exclusive Suicune Nintendo e-Reader card. Optimum Home Entertainment re-released the movie on DVD in UK on May 9, 2011. Studio Canal also re-released 4Ever along with Heroes on Blu-ray in the UK as a double Pokemon movie pack on April 2, 2012, a week before Pokémon the Movie: Black—Victini and Reshiram and White—Victini and Zekrom was released.
Cast:
English:
Trending pages
All items (18)
A
C
D
E
F
I
M
P
R
S
T
V
Y
Community content is available under
CC-BY-SA
unless otherwise noted.