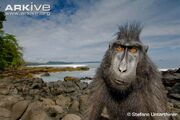 The Celebes macaque (
Macaca nigra
), also known as Celebes crested macaque, crested black macaque, Sulawesi crested macaque, or the black ape. is an Old World monkey that lives in the Tangkoko reserve, northeast of the Indonesian island of Sulawesi (Celebes), as well as on smaller neighboring islands. Locally known as yaki or wolai, its skin and hairless face is, with the exception of some white hair in the shoulder range, entirely jet black. Unusual for a primate, it has striking reddish-brown eyes. The long muzzle with high cheeks and the long hair tuft, or crest, at the top of the head are remarkable features. It has an "apelike" appearance due to its almost non-existent, non-visible, vestigial tail stub of only approximately 2 cm (1 in). With a total body length of 44 cm (17 in) to 60 cm (24 in) and a weight of 3.6 kg (8 lb) to 10.4 kg (23 lb), it is one of the smaller macaque species. Its life expectancy is estimated at approximately 20 years in the wild.
Gallery
See Also
Community content is available under
CC-BY-SA
unless otherwise noted.