Plot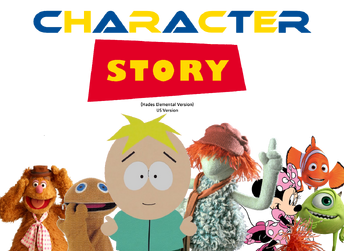 The was a boy named Walter, who had fun with a pull-string plushie named Butters. It was Walter's birthday. So, Butters and the gang are going to find out what Walter's opening. Butters met a newcomer, a fraggle, named Boober. The gang cannot wait to take a look at this newcomer. Boober becomes more popular than Butters. What a poor little guy. Butters, Boober, and the others saw a evil kid named Bart Simpson. Bart tortures toys just for fun. After Walter wanted to go to Pizza Planet, Butters accidentally pushed Boober out the window. Walter brings Butters instead. Boober begans to fight with Butters and they had a huge argument. As Boober leaves, Butters saw a Pizza Planet truck. He calls Boober that he had found it. They went to Pizza Planet to find Walter. But, Boober went to a crane game with lots and lots of Minions. Butters tries to get out of the crane game, but then all of a sudden, Bart starts grabbing both Butters and Boober. Bart went back home with Butters and Boober. Butters was frightened of the mutants. Walter was really sad that he lost Butters. Butters saw a giant reptile monster named Zilla, as he slowly moved away from him. Boober watches the TV commercial all about himself. He broke his arm and he can't fly. A girl named Lisa Simpson brings Boober to her bedroom to have a tea party. Boober was very upset. But then, Butters had an idea. He must go back to his friends, but it was too late. The mutants fixed Boober. Boober was strapped around by a rocket. The storm comes in. Butters needs Boober's help. He accepted Butters' apology. Bart grabs Boober and goes outside his backyard. Butters helps the mutants to save Boober no matter how long it takes. Butters scares Bart away. Butters and Boober flew up in the air, landed safe into Walter's box. Walter was now very happy that he got Boober and Butters back. Butters and Boober became friends, and they lived happily ever after. Or... is it?
Voice Cast
Matt Stone - Butters Stotch
Dave Goelz - Boober Fraggle
Russi Taylor - Minnie Mouse
Eric Jacobson - Fozzie Bear
Billy Crystal - Mike Wazowski
Albert Brooks - Marlin
Ronnie Le Drew - Zippy
Owen Wilson - Lightning McQueen
Nancy Cartwright - Bart Simpson and Ralph Wiggum
Yeardly Smith - Lisa Simpson
Bill Fagerbakke - Patrick Star
Mike Myers - Shrek
Frank Welker - Megatron and Scooby-Doo
EthGoesBOOM - Freddy Fazbear
Dee Bradley Baker - Aragon Dragon
Pierre Coffin - Bob Minion and the Minions
Peter Linz - Walter
Grey DeLisle - Kitty Katswell
Notes
1. Hannah Phillips's scream has been replaced by Lisa getting so mad and shouts out, "BART!! YOU DON'T EVEN CARE!! YOU DON'T EVEN CARE!!", then she cries and runs to her room.
2. Butters In A White Void must be seen in the opening part of Butters and Boober Arguing.
3. This is not the UK audio version! This is the US audio version.
4. Rex's realistic roar has been replaced by a grizzly bear roar.
5. Butters says "Wait A Minute! You- Now, Let Me Tell You Something, Fellas! You Don't Think I Meant To Knock Buzz Out The Window! Do You? Potato Head?"
6. Two Deleted Scenes are also in this movie; like "Torture" and "Rain".
Movie Used
Clips Used
South Park
South Park: Bigger, Longer, and Uncut
South Park: Imaginationland
Fraggle Rock
Mickey Mouse Cartoon
Mickey Mouse Clubhouse
Mickey, Donald, Goofy: The Three Musketeers
Mickey's Once Upon a Christmas
Mickey's Twice Upon a Christmas
House of Mouse
Minnie's Bow-Toons
The Wonderful World of Mickey Mouse
Mickey and The Roadster Racers
The Muppet Show
The Muppet Movie
The Great Muppet Caper
The Muppets Take Manhattan
A Muppet Family Christmas
Muppets Treasure Island
The Muppets Christmas Carol
Muppets From Space
It's a Very Merry Muppet Christmas Movie
A Muppets Christmas: Letters To Santa
The Muppets' Wizard of Oz
The Muppets (2011)
Muppets Most Wanted
The Muppets (2015)
Muppets Now
Monsters, Inc.
Monsters University
Monsters University: Party Central
Monsters At Work
Finding Nemo
Finding Dory
Rainbow
Rainbow Toy Shop
Rainbow Days
Boohbah
Cars
Cars 2
Cars 3
Cars Toons
Cars: Mater and The Ghost Light
SpongeBob SquarePants
The Patrick Star Show
The SpongeBob SquarePants Movie
The SpongeBob Movie: Sponge Out of Water
The SpongeBob Movie: Sponge On The Run
SpongeBob SquarePants: Lights, Camera, Pants!
The Simpsons
The Simpsons Movie
WALL-E
Shrek
Shrek 2
Shrek The Third
Shrek Forever After
Shrek The Halls
Scared Shrekless
Shrek: Thriller Night
Shrek 4-D: The Ghost of Lord Forquaad
Pokemon
HigglyTown Heroes
Scooby-Doo, Where Are You?
What's New, Scooby-Doo?
SCOOB!
Scooby-Doo (2002)
Scooby-Doo 2: Monsters Unleashed
The Sooty Show
Sooty and Co.
Sooty Heights
Teen Titans GO!
Despicable Me
Despicable Me 2
Despicable Me 3
The Minions
Godzilla Vs. Hedorah
Godzilla (1998)
Godzilla: The Final Wars
Jurassic Park
The Lost World: Jurassic Park
Jurassic Park III
Jurassic World
Jurassic World: Fallen Kingdom
Danny Phantom
Trilogy of Terror
Pumpkinhead
Rawhead Rex
Five Nights at Freddy's
God of War: Change of Olympus
The Blob
Transformers (2007)
Transformers: Revenge of the Fallen
Transformers: Dark Of The Moon
Transformers: The Last Knight
Transformers: The Ride 3-D
The Angry Birds
Sonic X
Sonic Heroes
Sonic The Hedgehog (2006)
Doom (2016)
Doom: Eternal
Arthur
T.U.F.F. Puppy
Photo Cast
Here's The Whole Cast Of Character Story (Hades Elemental Version).