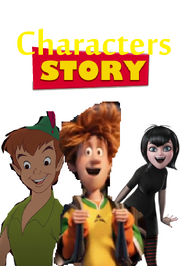 a spoof of Toy Story.
Cast
Sheriff Woody - Jonathan (Hotel Transylvania)
Buzz Lightyear - Peter Pan
Mr. Potato Head - Buck (Ice Age 3: Dawn of The Dinosaurs)
Slinky Dog - Norm (Norm of The North)
Rex - Sid (Ice Age)
Hamm - P.T. Flea (A Bug's Life)
Bo Peep - Mavis (Hotel Transylvana)
Sarge - Sergeant Monty (Valiant)
Sarge's Soldiers - Various Birds
Andy Davis - Nate Gardner (Storks)
Mrs. Davis - Sarah Gardner (Storks)
Molly Davis - Baby Diamond Destiny (Storks)
Sid Phillips - Melvin Sneedly (Captain Underpants: The First Epic Movie)
Hannah Phillips -  Penny Peterson (Mr. Peabody and Sherman)
Scud - Phango (Khumba)
Etch - Migo (Smallfoot)
Lenny - Fear (Inside Out)
Bo Peep's Sheep - Themselfs
Mr. Shark - Bela (Hotel Transylvania 2)
Mr. Spell - Mike Wazowski (Monsters Inc.)
RC - Dusty Crophopper (Planes)
Robot - Rodney Copperbottom (Robots)
Rocky Gibraltar - Mighty Eagle (The Angry Birds Movie)
Snakes - Viper (Kung Fu Panda)
Troll Dolls - Trolls Characters
Hockey Punk - Big Bad Wolf (Shrek)
Various Squeeze Toy Aliens - 
Chosen Squeeze Toy Alien - 
Combat Carl - Peter Parker/Spider Man (Marvel Cinematic Universe)
Baby Face - Venom (Spider-Man 3)
Ducky - 
Frog - Baby Tick-Tock (The Pirate Fairy)
Hand-in-the-Box - 
Janie/Pterodactyl - Heather (Over The Hedge)/Darkar (Winx Club)
Jingle Joe - 
Legs - 
Rockmobile - 
Roller Bob -
Walking Car - Professor Z (Cars 2)
Burned Rag Doll - 
Huge Red Pickup Truck Toy - Jackson Storm (Cars 3)
Yellow Soldier Toys - Hopper and Molt (A Bug's Life)
Sally Doll - Dot (A Bug's Life)
Trailer/Transcript
Transcript Parts
Gallery
Community content is available under
CC-BY-SA
unless otherwise noted.