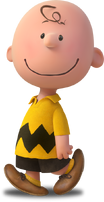 Charlie Brown is the main protagonist from the "Peanuts" series.
Voice Actors:
Peter Robbins (1963–1969)
Chris Inglis (1971)
Chad Webber (1972–1973)
Todd Barbee (1973–1974)
Duncan Watson (1975–1976, 1977)
Dylan Beach (1976)
Arrin Skelley (1977–1980)
Liam Martin (1978)
Michael Mandy (1980–1982)
Grant Wehr (1981)
Brad Kesten (1983–1985)
Michael Catalano (1983)
Brett Johnson (1984–1986)
Chad Allen (1986)
Sean Collins (1986–1989)
Erin Chase (1988–1989)
Jason Riffle (1988)
Kaleb Henley (1990)
Phillip Shafran (1991)
Justin Shenkarow (1992)
Jamie E. Smith (1992)
Jimmy Guardino (1993)
Steven Hartman (1995–1997)
Christopher Ryan Johnson (2000)
Quinn Beswick (2000)
Wesley Singerman (2002–2003)
Adam Taylor Gordon (2003)
Samuel Dunford (2006)
Spencer Robert Scott (2006)
Alex Ferris (2008–2010)
Trenton Rogers (2011)
Dylan O'Brien (2011)
Noah Schnapp (2015)
Aiden Lewandowski (2016)
Gaston Scardovi-Mounier (2018)
Roles:
S5E01 Thrill Kill, a suicide victim and mistaken as a killer of the three kids alongside his buddy Dylan Noakes (portrayed by Linus Van Pelt). They were arrested fpr the crime they didn't really commit, but sadly because of too much depression he experienced inside the jail for almost 13 years, at the age 30, Nimmo committed suicide without knowing that someone finally investigates his case and his friend until he's too late to found out that he was really innocent after all. His ghost will be seen by his mom and his friend (name mentioned above).
Other Appearances:
He is also part of Just Dance 2019 as a dancer for the song A Little Party Never Killed Nobody (All We Got).
Relatives:
Grandfather - Grandsanta (Arthur Christmas)
Grandmother - Rosalina (Super Mario Galaxy)
Father - Meta Knight (Kirby Series)
Mother - Sunset Shimmer (Equestria Girls)
Ex-Wife - Sci-Twi (Equestria Girls)
Wife - Human Twilight Sparkle (Equestria Girls)
Brother - Lincoln Loud (The Loud House)
Son - Ness (Earthbound)
Enemies - Killian (Spies in Disguise), Zeta (Shimmer and Shine) and Lord Shen (Kung Fu Panda 2)
Friends - Phoon (Experiment 540 / Lilo and Stitch) - as his air generator for his kite, and also Snoopy and Woodstock's playmate and restmate.
Criminal Case:
Charlie Brown is a suspect on the cases are #264 A Rock And A Hard Place and #266 In Cold Blood, later he becomes the killer on a case #267 Up In Flames on The Conspiracy.
Gallery: