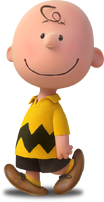 Charlie Brown is the main protagonist from Peanuts.
Voice Actors
Peter Robbins (1963–1969)
Chris Inglis (1971)
Chad Webber (1972–1973)
Todd Barbee (1973–1974)
Duncan Watson (1975–1976, 1977)
Dylan Beach (1976)
Arrin Skelley (1977–1980)
Liam Martin (1978)
Michael Mandy (1980–1982)
Grant Wehr (1981)
Brad Kesten (1983–1985)
Michael Catalano (1983)
Brett Johnson (1984–1986)
Chad Allen (1986)
Sean Collins (1986–1989)
Erin Chase (1988–1989)
Jason Riffle (1988)
Kaleb Henley (1990)
Phillip Shafran (1991)
Justin Shenkarow (1992)
Jamie E. Smith (1992)
Jimmy Guardino (1993)
Steven Hartman (1995–1997)
Christopher Ryan Johnson (2000)
Quinn Beswick (2000)
Wesley Singerman (2002–2003)
Adam Taylor Gordon (2003)
Samuel Dunford (2006)
Spencer Robert Scott (2006)
Alex Ferris (2008–2010)
Trenton Rogers (2011)
Dylan O'Brien (2011)
Noah Schnapp (2015)
Aiden Lewandowski (2016)
Gaston Scardovi-Mounier (2018)
He's a Street Rat
He's a Son a Santa
He's a Plumber
He's a man in a yellow hat
He is a dwarf
He is an Animal Rescuer
He is a man-cub
He is a Starfish
Other Appearances
He is also part of Just Dance 2019 as a dancer for the song A Little Party Never Killed Nobody (All We Got).
Gallery
Community content is available under
CC-BY-SA
unless otherwise noted.