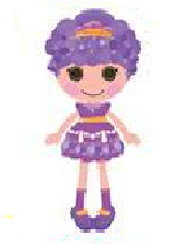 Charms Seven Carat wasn't born into royalty, but she likes to pretend she was. She is really good at doing royal curtsy and spends time polishing her majestic tiaras and earrings. Her name is based off of her charming personality as well as her seven carat gold jewelry she's wearing.
About Charms
Appearance
Charms is a fair-skinned lalaloopsy with pale pink cheeks. She wears her purple hair up and held by three purple gems held in place by gold ornaments. In her hair are small visible gems.
She wears a purple dress with the skirt divided into two sections, kept seperate by a pearl chain. The top is purple silk, while the bottom has a scallop and dot shaped lining designed by giant droplet gems, circled gems, and sparkle markings. Around her waist is a gold belt. She wears an indigo necklace and a pair of plum-purple flats with a gold strap and lavender tube socks.
Pet
Charms' pet is a purple amethyst butterfly.
Home
An amethyst purple house.
Trivia
Gallery
Main article: Charms Seven Carat/Gallery