Chase (born May 12, 2007) is a German Shepherd puppy and the number two member of the PAW Patrol.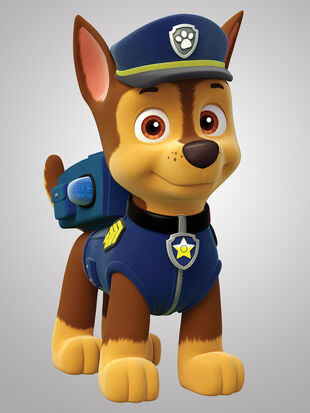 He Is a Beagle
Chase plays Bill Denbrough in Red (It)
Chase is Cuddles in

Happy Tree Friends

, he plays as Cuddles
He is the Grinch's dog
He is a slinky dog
Chase, along with the PAW Patrol play jerry in danny and the paw patrol the movie
They're all monkeys
He is a Reindeer
He is a golden retriever
Chase plays Chuck E Cheese in The Chase German Shepherd Movie
He is a Mouse
He is a young Ape Man
He is an alien
He is Dorothy's dog.
He is a robot dog
He is a pig
She is a baby shaker
He is a toaster
He is a rottweiler
He is a pup
He is Anastasia's dog
He is a clownfish
He is a fox
He is a yellow and blue tropical fish
He is a yellow and blue tropical fish
Chase played Simon Seville in

Marshall and the Doggies
He's a chipmunk.
He is Lenny Feder's son
Gallery: