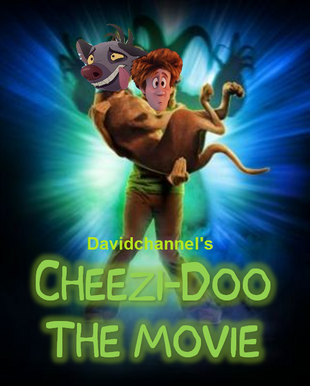 Davidchannel's movie-spoofs of 2002 Warner Bros. film Scooby Doo! the Movie.
Cast
Scooby-Doo - Cheezi (The Lion Guard)
Norville "Shaggy" Rogers - Jonathan (Hotel Transylvania)
Velma Dinkly - Wendy (Gravity Falls)
Daphne Blake - Teodora Villavicencio (Legend Quest)
Freddie Jones - Leo San Juan (Legend Quest)
Emile Mondavarious - Merlin (The Sword in the Stone)
N' Goo Tuana - Tzekel Kan (The Road to El Dorado)
Zarkos - El Macho (Despicable Me 2)
Mary Jane - Pinkie Pie (human) (My Little Pony: Equestrial Girls)
Melvin Doo - Flash Sentry (My Little Pony: Equestrial Girls)
Scrappy Doo - Dogo (The Lion Guard)
Scrappy Rex - Red (All Dogs Go To Heaven 2)
Demons - Nightmare Animatronics (Five Nights at Freddy's 4)
Luna Ghost - ¿¿??
Old Man Smithers - Amos Slade (The Fox and the Hound)
Gallery
See Also
Community content is available under
CC-BY-SA
unless otherwise noted.