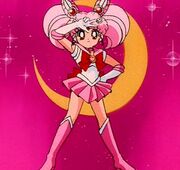 Sailor Chibi Moon is Chibiusa Tsukino's Senshi identity, and is the seventh Sailor Senshi to be introduced in the manga. This is the original depiction of the character created by Naoko Takeuchi.
Chibiusa played Little Suzy in Brock Bravo
Chibiusa played Cindy in Tori Neutron Series
Chibiusa played Thumbelina in Rinilina
Chibiusa played Becky Lopez in Tori Shrinks
Chibiusa Played Emmy In Chipmunk Tales (Dragon Tales)
Chibiusa Played Crystal n Scooby doo spoof for 143Movies
Chibiusa played Daphne Blake in Krypto Doo
Chibiusa Played Sharon Spit In Braceface 1985Movies Human Style
Voice Actors:
Tracey Hoyt (Episodes 54-81, movies) - English
Stephanie Beard (Episodes 96-159) - English
Sandy Fox (VIZ) - English
Kae Araki - Japanese
Misato Fukuen - Japanese
Vanessa Garcel (Episodes 60-65, episode 198, movies) - Spanish
Cristina Hernandez (Episodes 66-present) - Spanish
Isabel Fernandez Avanthay - Spanish
Marta Sainz - Spanish
Elena Ruiz de Velasco - Spanish
Deborah Morese - Italian
Portrayals:
Gallery:
Community content is available under
CC-BY-SA
unless otherwise noted.