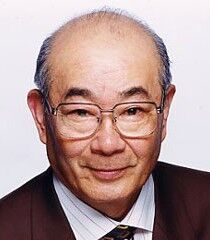 Chikao Ohtsuka (大塚 周夫 Ōtsuka Chikao, July 5, 1929 – January 15, 2015) was a Japanese actor and voice actor. He was most known for the roles of Captain Hook (Peter Pan no Bōken), Dick Dastardly (Wacky Races & Dastardly and Muttley in Their Flying Machines), Goemon Ishikawa XIII (Lupin III), Nezumi Otoko (GeGeGe no Kitaro), Denzō Yamada (Nintama Rantarō), Professor Moriarty (Sherlock Hound), Jagi (Fist of the North Star), Gol D. Roger (One Piece), Master Xehanort (Kingdom Hearts series), Dr. Weil (Mega Man Zero), Taopaipai (Dragon Ball), Piedmon and Apocalymon (Digimon), Doctor Eggman (Sonic the Hedgehog series) and Wario in his commercials. He was the official dubbing artist of Charles Bronson and Richard Widmark. At the time of his death, he was attached with Aoni Production. He was the father of Akio Ōtsuka. The two occasionally performed together, such as in Black Jack 21, Mobile Suit Gundam 0083 Stardust Memory, the Full Metal Panic! series, and Metal Gear Solid 4: Guns of the Patriots. Ohtsuka died from ischemic heart failure at the age of 85 on January 15, 2015.
Voices:
Fidget - The Great Mouse Detective
Hamm - Toy Story
Gol D. Roger/Pirate King - One Piece
Creeper - The Black Cauldron
Cheshire Cat - Alice in Wonderland
Captain Hook - Peter Pan
Amos Slade - The Fox and the Hound
Stromboli - Pinocchio
Dr. Eggman - Sonic X
Fa Zhou - Mulan
Neil - The Monster Clubhouse
Community content is available under
CC-BY-SA
unless otherwise noted.