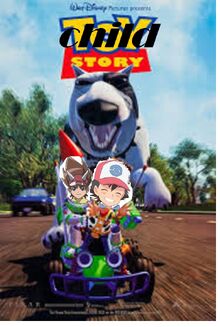 Cast:
Sheriff Woody - Ash Ketchum (Pokemon)
Buzz Lightyear - Max Taylor (Dinosaur King)
Mr. Potato Head - Brock (Pokemon)
Slinky - Clemont (Pokemon)
Rex - Wreck it Ralph
Hamm - Rex Acient (Dinosaur King)
Bo Peep - Serena (Pokemon)
Andy - Dale (Chip 'n Dale Rescue Rangers)
Molly - Bink (Chip 'n Dale Rescue Rangers)
Mrs. Davis - Brittany Miller (Alvin and the Chipmunks)
Sid Phillips - Dr. Buford Bubbles (Alvin and the Chipmunks)
Hannah Phillips - Olivia Flaversham (The Great Movie Detective)
Scud - Himself
Quotes: 
Ash Ketchum: Listen, LightSnack, you stay away from Dale. He's mine, and no one is taking him away from
Max Taylor: What are you talking about? Where's that bonding strip?
Ash Ketchum: And another thing-- Stop with this spaceman thing! It's getting on my nerves!
Max Taylor: Are you saying you want a lodge of complaint with Star Command?!
Ash Ketchum: Oh, okay. Ooh, well, so you wanna do it the hard way, huh?
Max Taylor: Don't even think about it, Cowboy.
Ash Ketchum: Oh, yeah, tough guy? (Pushes his Helmet Open)
(Max Gasps, Choking)
Max Taylor: The air isn't toxic. How dare you open a spaceman's helmet on an uncharted planet. My eyeballs could've been sucked from their sockets.
Ash Ketchum: You actually think you the Max Taylor? Oh, all this time I thought it was an act. Hey, guys, look. It's the real Max Taylor.
Max Taylor: You're mocking me, aren't you?
Ash Ketchum: Oh, no, no. No-no-no-no-no. Max, look! An Alien!
Max Taylor: Where?
(Ash Laughs)
Ash Ketchum: Shut up! Just shut up, you idiot!
Dr. Buford Bubbles: Olivia, Jeannie's all better now.
(Olivia Screams) Mom! Mom!
Dr. Buford Bubbles (off screen): She's lying! (on-screen) Whatever she says it's not true!
Dr. Buford Bubbles: Where are your rebel friends now? (Sinister Laugh)
Ash Ketchum: From now on, you must take good care of your children. Because if you don't, we'll find out Buford. We children can see everything. So place nice.
(Dr. Buford Bubbles Screams Running Inside)
Trivia:
Gallery:
Community content is available under
CC-BY-SA
unless otherwise noted.