Disney and Sega's tv-spoof of 1996 Jim Henson and BBC's "Muppets Tonight".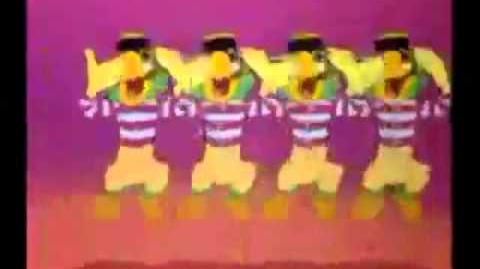 Cast:
Clifford - Jose Carioca (Saludos Amigos)
Kermit the Frog - Orinoco (The Wombles)
Miss Piggy - Nellie the Elephant
Fozzie Bear - Berk (The Trap Door)
The Great Gonzo - Yuckie Duck (What a Cartoon!)
Rizzo the Rat - Sledgehammer O'Possum (What a Cartoon!)
Sam the Eagle - Paddington Bear
Statler - Sparky (Atomic Betty)
Waldorf - Robot X-5 (Atomic Betty)
Animal - Goofy (Disney)
Dr. Bunsen Honeydew and Beaker - Robot and Monster
Rowlf the Dog - James the Cat
Dr. Julius Strangepork - Manny (Ice Age)
Beauregard - Basil Brush
Big Mean Carl - Honey Monster (Sugar Puffs)
Eugene the Mink - Ethelred (The Talking Parcel)
J.P. Grosse - Archibald the Koala
The Elvises - Chanticleer (Rock-a-Doodle)
Behemoth - Badger (Bodger and Badger)
Mulch - Grimlock (Transformers G1)
Sweetums - The Great Owl (The Secret of Nimh)
Pob Lobster - Klonoa (Namco)
Clueless Morgan - Steele (Balto)
Andy and Randy Pig - Frank and Buster (The Koala Brothers)
Nigel - Balin the Mouse
Spamela Hamderson - Annie (The Forgotten Toys)
David Hoggselhoff - Bing Bong (Inside Out)
The Extremes - The Clangers Characters
Snookie Blyer - Dennis the Dog (Absolutely Anything)
Philo Zilfinger - Kipper the Dog
Shark - Lenny (Shark Tale)
Pepe the King Prawn - Pingu
Bobo the Bear - Cat (Peg + Cat)
Foo-Foo - Rita (Oliver & Company)
A. Ligator - Ben Birdie (Merrie Melodies)
Backup Singers - Dusty Bin (3-2-1), Access Card (Access Advert), The Happy Famillies Characters (Butlins Advert), Vegetables (Bird's Eye Country Club), Sooty Characters, Noddy Characters, Itchy (All Dogs Go to Heaven) and Ed Edd 'n' Eddy Characters
The Muppet Orchestra - Sodor Brass Band and Fireman Sam Characters (Thomas and Friends and Fireman Sam)
Community content is available under
CC-BY-SA
unless otherwise noted.