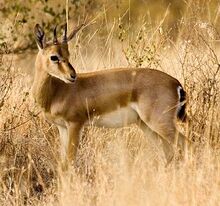 The chinkara (Gazella bennettii), also known as the Indian gazelle, ravine deer or jebeer gazelle, is a gazelle species native to Iran, Pakistan, and India. Chinkara live in arid plains and hills, deserts, dry scrub and light forests. They inhabit more than 80 protected areas in India. In Pakistan, they range up to elevations of 1,500 m (4,900 ft). In Iran, they inhabit the Kavir National Park. In 2001, the Indian chinkara population was estimated at 100,000 with 80,000 living in the Thar Desert. The population in Pakistan is scattered, and has been severely reduced by hunting. Also in Iran, the population is fragmented. In Afghanistan, chinkaras are probably very rare.
Gallery
Books
 See Also
Community content is available under
CC-BY-SA
unless otherwise noted.