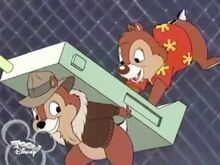 Chip and Dale are a characters chipmunks from Mickey Mouse and Chip and Dale: Rescue Rangers. They recently star in a Mickey and the Roadster Racers spin-off, Chip 'n Dale's Nutty Tales.
Voice Actors for Chip:
Voice Actors for Dale:
Dessie Flynn - English
Judith Searle - English
Corey Burton - English
Tress MacNellie (1999-2006) - English
Arturo Mercado - Spanish
Cristina Camargo - Spanish
Wolfgang Ziffer - German
Teo Bellia - Italian
Koichi Yamadera - Japanese
Minoru Inaba - Japanese
Joszef Kerekes - Hungarian
Hadar Shahaf - Hebrew
Chip and Dale played as Harry and Bug friend in A Children's Life
Chip and Dale played as Singing Rats in Larry and Company
Chip played as Lenny in Rodent Tale
Chip played as Ape Family in Orinoco Pan
Chip and Dale played as Jaq and Gus in Ladyrella
Chip played Imperial Scout 1 in Nellan
Chip played Jiminy Cricket in Linkcchio
Chip played Sonic and Dale played Tails in Chip X
Dale played Captain Jack Sparrow in Pirates of the Caribbean: Curse of the Black Acorn
Chip played Artemis in Sailor Kim
Chip and Dale played Yogi Bear and Boo Boo Bear in Ash Doo in Arabian Nights
Dale played Christopher in Ron X
Chip and Dale played Abu in Kronkladdin
They are Monkeys
Chip and Dale played Brain and Moose in Sniffles (Doogal)
He is the father
He is an orange Tyrannosaurus Rex
He is an green Parasaurolophus
He is a Pokemon trainer
He is Great Dane
He is the navigator
He is May's Litte brother
He is Serena's Little brother
He is a Nerd
Chip played Sammy Tsukino in Sailor Andie
He is Serena's brother
He is Emmy's 4 year old Brother
Chip played Ash in Pokemon (1952Movies Style)
He is a Pokemon Trainer
Chip played Rex Acient in Dinosaur King (180Movies Style)
He is a Member of the D Team
He is a Lion
Dale played Rich in Daley Rich (1980)
He is a Very Rich Boy
he is Goku and Chi-Chi's First Child
he is Goten's big brother
Chip played Naruto Uzumaki In Chipruto for 399Movies
They are otters
Portrayals for Chip:
Portrayals for Dale:
Gallery:
Community content is available under
CC-BY-SA
unless otherwise noted.