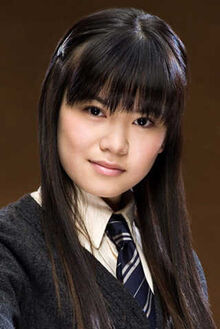 Cho Chang is Harry Potter's former girlfriend. She is also the girlfriend of the late Cedric Diggory.
Background Information
Cho Chang is a witch who attended Hogwarts School of Witchcraft and Wizardry from 1990-1997 and was sorted into Ravenclaw House. She was a Seeker for the Ravenclaw Quidditch team and a popular student.
In Cho's fifth year, she began dating Cedric Diggory while he was a Champion in the Triwizard Tournament. Cedric became one of the first casualties of the Second Wizarding War. He was murdered by Peter Pettigrew on Lord Voldemort's order in June of 1995. His death greatly upset Cho and made her determined to fight against the recently returned Dark Lord.
In her sixth year, against her parents' wishes she joined Dumbledore's Army, an organization taught and led by Harry Potter. In the same year, she also began a romantic relationship with Harry. However, Cho's best friend Marietta Edgecombe betrayed the D.A., after her friend's betrayal Cho and Harry's relationship began to fall apart. She remained loyal to her school and to the D.A., returning after she had graduated to participate in the Battle of Hogwarts. Cho survived the Second Wizarding War and eventually married a Muggle.
Portrayals
In Richard Tyler and Goblet of Fire, she is portrayed by Dawn
Portrayed by Thumbelina
portrayed by Nala
portrayed by Mariah Wong
portrayed by Numbuh 3
portrayed by Jasmine
portrayed by Leela
portrayed by Alice
portrayed by Mulan
portrayed by Aurora
portrayed by Anastasia
Portrayed by Robin Snyder
Portrayed by Nina Lopez
Portrayed by Brittany Miller
Portrayed by Kimi Finster
Portrayed by Janey Powell
Portrayed by Patti Mayonnaise
Portrayed by Sam Manson
Portrayed by Kim Possible
Portrayed by Chloe the Hedgehog
Portrayed by Amy Rose
Portrayed by Zelda
Gallery
Similar Characters
Robin Snyder (The Powerpuff Girls)
Community content is available under
CC-BY-SA
unless otherwise noted.