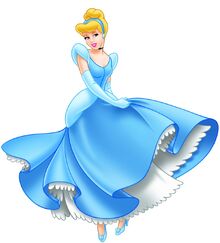 Cinderella is a chimney sweep girl from Disney's Cinderella.
Voice Actors
Ilene Woods (Speaking & Singing Voice) - English
Jennifer Hale (Speaking & Singing Voice) - English

Lily James

- (Live Action) English
Joke de Kruijf - Dutch (1991 Dub)
Alice Babs - Swedish (1967 Dub)
She is a girl in Kansas
She is Alice's sister
She is a little girl
She is Andrew's very beautiful adoptive mother
She is an elephant
She is a French girl
Animal Story (Stephen Druschke's version)

She played as Mrs. Davis
She is Andy's mother
She is a recurring role.
She is Loonette's granny
She is Scarlett's sister
She is a Mike and Steve's mother
Cody (Dumbo) she played the elephant with the Orange headwear (Giddy)
She is a nanny
She is a dog
Mailbox (Arthur) she played Sue Ellen
She is one of Arthur's classmates/friends.
She is a cow
She is a member of the Heathers, and the nicest of the team
She is a member of the Plastics, and a dumb but sweet girl
Cinderella will play Christine Penmark in an upcoming parody of The Bad Seed
She is Rhoda's mother and the main protagonist
The Great Mermaid Detective

She played as Dr. Dawson
Portrayals:
Gallery
Main Article: Cinderella/Gallery