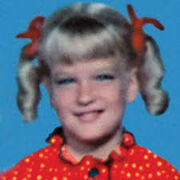 Cynthia "Cindy" Sofia Brady (née Martin) was the youngest daughter of Carol Brady, and the youngest child in the Brady Family on The Brady Bunch TV series. On the ABC-TV sitcom series, the part of Cindy was played by Susan Olsen. Olivia Hack played the role in theatrical films, Jennifer Runyon played Cindy in the 1988 TV movie and Sofia Vassilieva played the role in the 2002 TV movie.
About Cindy
Cindy was born Cynthia Sofia Brady in 1963. She being the youngest of the Brady kids, always wore her hair in curls or braids during the first ten years of her life (Season 1-Season 3). In Season 4, Cindy started wearing her hair in pigtails until Season 5 episode "The Driver's Seat", when she lets her hair down. She was portrayed as a naive, but occasionally precocious little girl and had a pronounced lisp. She frequently liked to snoop and share secrets she had found out. In one episode, the family had to help her correct her habit of tattling.
Cindy graduated from Westdale High School in 1981 and earned a bachelor's degree in communications from U of A. She went to work as a deejay for KBLA Radio and became romantically involved with her boss, a Jewish widower some fifteen years her senior with two teenage children. The two eventually married and had twins Rebecca and Jonathan. In 2000, While they were living in New York, They adopted an abused Puerto Rican-American Girl named Carmen.
Gallery