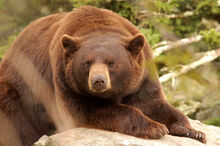 The Cinnamon bear (Ursus americanus cinnamomum) is both a color phase and subspecies of the American black bear, native to central and western areas of the United States and Canada. Established populations are found in Colorado, New Mexico, Utah, Idaho, Montana, Washington, Manitoba, Minnesota, Wisconsin, Wyoming, California, Alberta, and British Columbia. They also have been seen in Pennsylvania and New York. The most striking difference between a cinnamon bear and any other black bear is its brown or red-brown fur, reminiscent of cinnamon.The subspecies was given this designation because the lighter color phase is more common there than in other areas.
Gallery
See Also
Community content is available under
CC-BY-SA
unless otherwise noted.