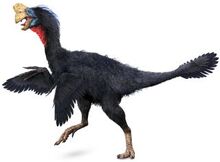 Citipati is a genus of oviraptorid theropod dinosaur from the Late Cretaceous Period of what is now Mongolia (specifically, the Djadokhta Formation of Ukhaa Tolgod, in the Gobi Desert). It is one of the best-known oviraptorids, thanks to a number of well-preserved skeletons, including several specimens found in brooding positions atop nests of eggs. These nesting specimens have helped to solidify the link between non-avian dinosaurs and birds.
Roles
Community content is available under
CC-BY-SA
unless otherwise noted.