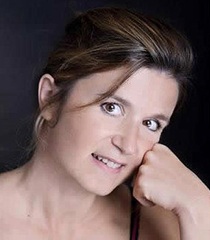 Claire Guyot (Born June 28, 1966) is a French actress and singer, known for her prolific dubbing of foreign productions. She is also artistic director of dubbing. Most notably for the famous American actresses Teri Hatcher, Sarah Michelle Gellar, Winona Ryder and Jodi Benson. Guyot has recently started to appear in theater productions. In 2010 she portrayed Donna in the musical Mamma Mia! at the Théâtre Mogador.
Voices:
Ariel - The Little Mermaid
Robyn Starling - Tom and Jerry: The Movie
Shanti (1997 redub) - The Jungle Book
Cecilia - We're Back! A Dinosaur's Story
Sam - Totally Spies
Daphne Blake - Scooby Doo (2002 film)
Fairy Godmother - Shrek 2
Molly Cunningham - TaleSpin
Abigail - Once Upon a Forest
Madeline - Madeline the Series
Gwen, Gustel - The Monster Clubhouse
Trivia
The reason why the French dubbing of The Jungle Book was partially-redubbed in 1997 to have her as Shanti was due to the fact that Lucie Dolène (who originally voiced Shanti back in 1968) sued Disney for the copyrights of her voice, which led to Disney having the song, "My Own Home" redubbed, but the rest of the French dub of The Jungle Book was left untouched in its 1968-glory.

However, starting in 2007, Lucie Dolène's singing was reinstated into the French dub of The Jungle Book for France and the Benelux countries, and even Disney+ has the French dub of The Jungle Book with Lucie Dolène's singing still intact, though Claire Guyot is still (incorrectly) mentioned in the dubbing credits, despite the fact that the French dub of The Jungle Book is left completely unaltered.
Community content is available under
CC-BY-SA
unless otherwise noted.