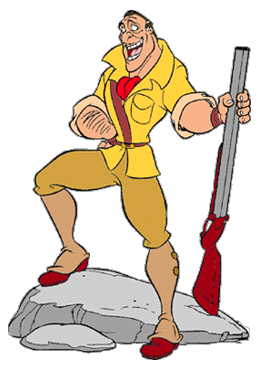 Clayton
is the main villain from "Tarzan".
He played Prince Achmed in AiAiladdin
He is a prince
He played one of the poachers in The Animals Of Animation Wood
He is a hunter
He Played Professor Mice In The Great Knight Detective
He is a Sewer Mice
He is a prince
He is a captain
He is a Arabian sorcerer
He is a murder
He is a man
He is a hunter
He is a ringmaster
He played Rothbart in The Puppy Princess
He is an enchanter
He is Tabitha Harperstein's helper
He is a huntsman
He is an exterminator
He is a slob
He is a rat
He played Warren T. (Cat) in An Elmore Tale
He is a cat in disguise
He is a judge
He is a Gogan
He is a librarian
He is a poacher
He is a member of Team Rocket
He is a governor
He is a Shadow Man
He is a Bug Warrior
He is an evil lion
He Played Razoul In ???
He is an arabian Guard
He Played Tzekel Kan in The Road To Notre Dame (seansiq Style)
He is an Wicked
Portrayals:
Gallery:
Community content is available under
CC-BY-SA
unless otherwise noted.