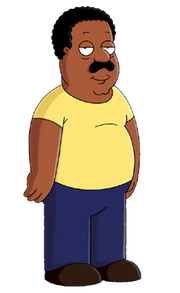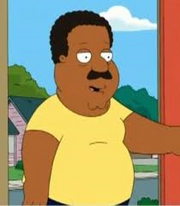 Cleveland Orenthal Brown, Sr. is a supporting character on the animated series Family Guy, and central character in the spin-off series, The Cleveland Show, which reduced him to a recurring character on Family Guy until he returned. He was the token black guy in the neighborhood and a sort of novelty in Quahog which is exemplified in his trip to Barrington Country Club in "Fore Father". Until "The Cleveland-Loretta Quagmire", he was married to his wife Loretta Brown, but they separated after Loretta had an affair with Glenn Quagmire, although they still have feelings for each other. Together they had a son, Cleveland Brown, Jr., whose personality and energy contrasted greatly with his father while his parents were still together. He also sports a mustache and often offers deep insight that the other characters are unable to see. In the Pilot Pitch, Cleveland wore a teal shirt with a different hairstyle. However, a character with Cleveland's current design also appears.
Cleveland Brown plays Malcolm Ray in Family Critic
Community content is available under
CC-BY-SA
unless otherwise noted.