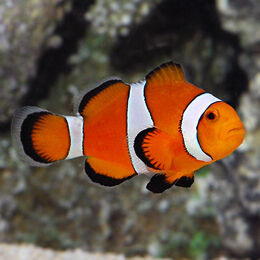 Clownfish
or 
anemonefish
 are fishes from the subfamily Amphiprioninae in the family Pomacentridae. Thirty species are recognized: one in the genus 
Premnas
, while the remaining are in the genus 
Amphiprion
. In the wild, they all form symbiotic mutualisms with sea anemones. Depending on species, anemonefish are overall yellow, orange, or a reddish or blackish color, and many show white bars or patches. The largest can reach a length of 18 centimetres (7.1 in), while the smallest barely achieve 10 centimetres (3.9 in).
Bright orange with three distinctive white bars, clown anemonefish are among the most recognizable of all reef-dwellers. They reach about 4.3 inches (11 centimeters) in length, and are named for the multicolored sea anemone in which they make their homes.
Roles
Gallery
A diver's guide to underwater Malaysia Macrolife
A diver's guide to Reef Life
Community content is available under
CC-BY-SA
unless otherwise noted.