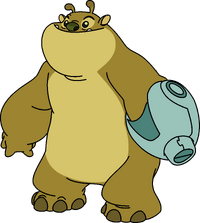 Clyde, A.K.A. Experiment 150, is an illegal genetic experiment created by Jumba Jookiba and a character in the Lilo & Stitch franchise. He is designed to be an expert in theft and evasion. Having advanced lingual skills, he is able to easily communicate with his partner-in-crime Bonnie, whom he is programmed to be drawn to. His one true place was originally in Kokaua Town Prison, but he was paroled in "Snafu". After that, it is unknown where his one true place currently is.
Befriended from another series
Note: this is only a parody and most likely will never happen in real series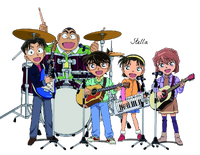 Outside of Lilo and Stitch series, his current 'ohana and new friends were The Junior Detective League, known as Detective Boys (少年探偵団, Shōnen Tantei-dan) in Japan, are a group of first-graders consisting of Conan Edogawa, Amy Yoshida (Japanese name: Ayumi Yoshida) Mitch Tsuburaya (Mitsuhiko Tsuburaya), George Kojima (Genta Kojima) and Anita Hailey (Ai Haibara) (from the series Detective Conan / Case Closed), which also shared with his partner, Bonnie as their friend too.