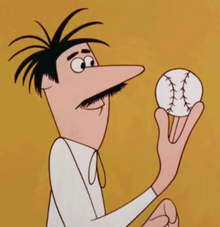 Clyde Crashcup is a recurring character in the 1961-1962 television series The Alvin Show. He is a scientist whose experiments invariably fail under the assistance of Leonardo, a short and quiet man.
Voice Actors:
Shepard Menken (1961-1962) - English
Charles Berendt (1981) - English
He Played Clyde Cosgrove In Artemis 'n Alvin Rescue Rangers
He Played Grufff In Gummie Bear spoof for 154Movies
Portrayals:
Gallery:
Community content is available under
CC-BY-SA
unless otherwise noted.