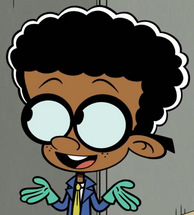 Clyde McBride (born September 13, 2005) is one of the main Characters in The Loud House.
Appearance/s in Just Dance
He is the dancer for the song "Sugar Dance" by The Just Dance Band (unlockable via code) on Just Dance 2018.
He also appeared again on the game once more song "The Weekend" by Michael Gray (main coach/P1 ; together with his friend Lincoln Loud) on Just Dance 2021
Roles
He is a cub
He is a Half-Bloodhound Puppy.
He played Ron Weasley in Lincoln Loud (Harry Potter series)
Gallery