The Coast Guard is a small vessel who acts as customs officer for the port. He often stands at the entrance to the estuary ready to question and check incoming shipping before clearance. On other occasions he stands by and over-looks large-scale operations, such as demolition and quarry work. He also doubled as a 'one-man' police-force. Despite his size, he has heavy influence and authority over the vessels of the port.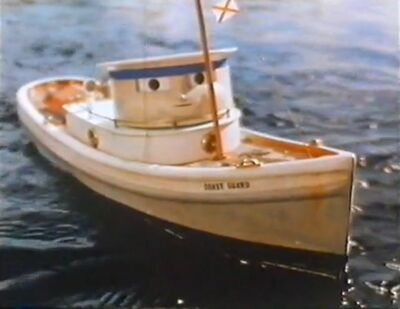 Bio
He makes numerous cameo appearances, but has minor speaking roles in the episodes High Winds, Warrior and Quarantine. In the episode High Winds, he is rammed into the rocks by Johnny Cuba, later to be found and rescued by Zebedee. He later arrested Johnny Cuba. In Warrior, he oversees the pulling down of old buildings at the old quayside. In Quarantine, he is seen quarantining and clearing ships to enter the harbour and admonishes Nantucket for having his flags down without permission and puts Zorran under Quarantine.
He is voiced by British actor Lee Cornes, who also voiced Grampus, Billy Shoepack and Boomer in the series. Cornes gives the Coast Guard a neutral Posh English accent.
In the Buzz Books and annual stories, he is referred to as "The Customs Launch". In Salty's Lighthouse, he and the Coast Guard's Messenger are both called "Cappy".
The Coast Guard's whistle plays a high-pitched note with a whooping sound.
Voice Actors
Appearances
Trivia
Because of his small size, eye and wheelhouse mechanisms could not be added to his model.
The Coast Guard's model was reused as set dressing in various episodes of TUGS' sister television series Thomas the Tank Engine and Friends.

However, since Thomas the Tank Engine and Friends has now turned itself into a CGI animation series in mid 2008, it is currently unknown where the Coast Guard's model is.
Merchandise
Community content is available under
CC-BY-SA
unless otherwise noted.