Coco LaBouche is the main villain in Rugrats in Paris: The Movie.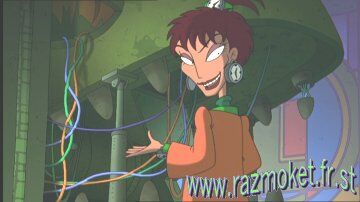 Coco plays Raska (Human) in Baymax: Robots For Everyone
She is a Famous, Beautiful and Attractice Spokeswoman from Robixcorp, Who turns out to be an Alien in Disguise.
Coco plays Queen Narrisa (Live Action) in

Enchanted (Strongdrew941 style)
She is a queen.
She is a bad witch
Coco plays Cruella DeVil in 101 Kongs
She is a devil woman
She is an evil sea witch
Coco plays Morgana in 

The Little Mer-Katie 2: Return to the Sea
She is a skinny sea witch
Coco plays Zira in 

The Ryder King 2: Ryder's Pride
She is an evil lioness
She is an evil fairy
Coco plays Mrs. Fussy in 

Aurora's Bed
She is Henry Fussy's mother
Coco plays Miss Almira Gulch in The Wizard of Oz (160 Movies Style)
She is a nasty neighbor of Gales
She is the Defense Against the Dark Arts teacher in Harry Potter's fifth year, who is cruel and abusive towards her students
She is the Emepress
Gallery